Archive for May 2009
Since the Big Screen EPG Private Beta fired up in February this year – users have been (automatically/anonymously) submitting stats on their TV watching and Series recording habits to the bigscreenglobal.com website.  These stats are compiled each time user's process a new XMLTV feed (an XML file containing custom Electronic Program Guide data) and import it into Windows 7 using Big Screen EPG. Then over on the bigscreenglobal.com website – every 30 mins or so – some background tasks have been processing, crunching and matching up the submitted data – to produce a real time TV Ratings system. (code named 'pvrWatch')…
In order to make these stats viewable by the public (via their browsers) – a web application has been created (powered with Microsoft Silverlight v2) – which allows users to browse / search this data – and provide a little eye candy along the way.  (Nb: a Media Center 'Addin' version of this application is also nearly ready and will be launched soon).
Since pictures tell a thousand words – here's a quick run down on what this application is all about.
[pvrWatch Home Page]

When you launch the application (in your browser) – the following 'start page' is shown. This page gives you a quick overview of the 'Top Recorded Series' and 'Most Watched TV' – with tabs to nominate which country/region you wish to view.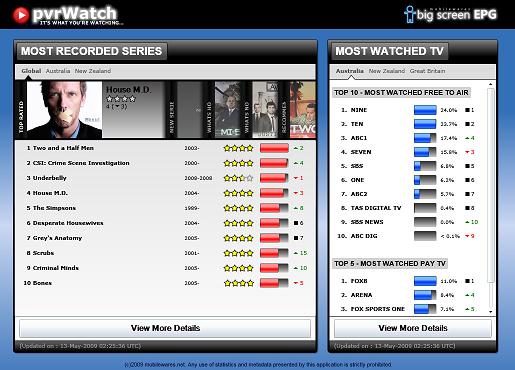 NB: Currently only Australia, New Zealand and UK are provided (due to most of the users in the private beta being from Australia/NZ) – however the 'global' rankings (for series) are collated across all users (from all countries).  As the beta expands – and enough users from other countries are submitting stats – then these countries will also be added here.
You can then click through to view more details on Top Series and Most Watched TV (via the buttons at the bottom).
 
 
[pvrWatch Top 50 TV Series]
The Top 50 TV Series charts are compiled from the Series Recording Requests they have set up in Media Center.  On the home page – you can view the top 8 Series – and also view items for 'Whats Hot/Whats Not', Top Rated, New This week and more.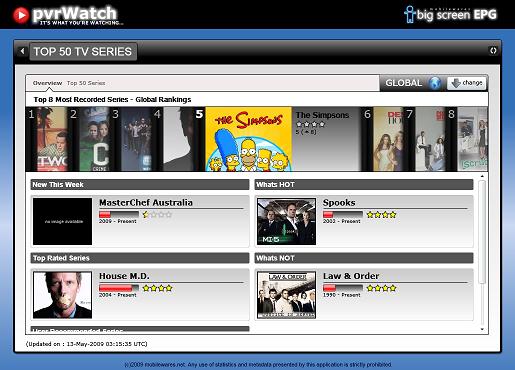 You can then drill down to an entire list of the Top 50 Series. For each entry – there's some information such as a Star Rating, Relative Percentage Bar (compared to the most recorded series) – plus information on the 'Previous Week/Months' ranking. (so you can see if the Series is gaining or losing popularity – similar to a Billboard Music chart).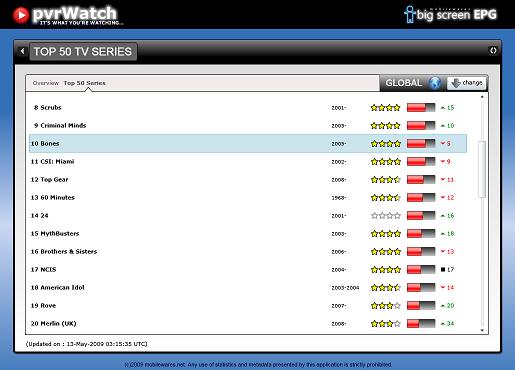 You can also modify the criteria for results (at present – you can nominate the country/region to view).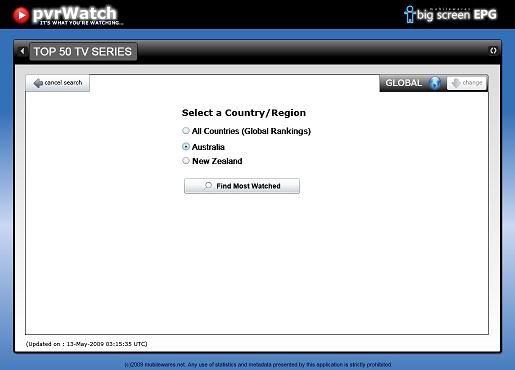 In (upcoming) future versions – user will also be able to drill down on a TV Series – and submit their own Star Ratings, Comments and Recommendations (which in turn will feed back into the EPG that gets imported to Media Center via Big Screen EPG).
[pvrWatch Most Watched Television]
The 'Most Watched Television' charts track users live tv viewing habits – and provide a 'live' Ratings system (similar in concept to the Neilson and OZTam ratings systems we have in Australia).  These stats are compiled by adding up the minutes each user spent watching a channel.  Currently the Most Watched ratings are available for Free To Air and Pay TV channels – in Australia, New Zealand and UK.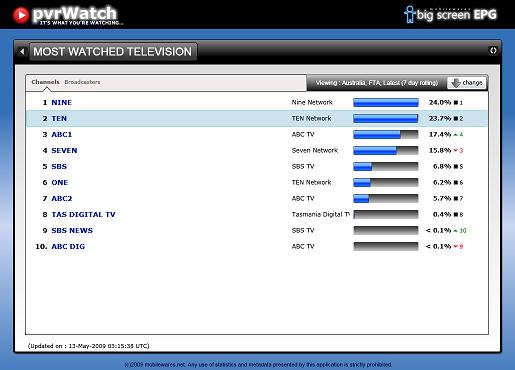 If you're viewing Free To Air channels – there's 2 views – one by 'Channel' and another by 'Broadcaster'.  
Since there's actually a lot more unique channels (or services) than what is displayed – these are grouped into parent 'channels' (which may have unique line up of programs).   For example – the entry 'NINE' covers results from the channels Nine Digital, Nine HD Digital, WIN SD + Win HD(Regional) and any other regional affiliates that essentially show the channel Nine schedule.
The 'Broadcasters' tab then groups results into the parent 'Broadcast' company – for example   TEN Network will include results from Ten Digital, ONE SD/HD (Network TEN's sports channel)  + all the regional stations showing their content.  Similarly 'ABC TV' will cover all results from ABC 1, ABC 2, ABC HD, ABC Dig Radio, ABC Dig Jazz etc.
Australian Ratings by Broadcaster :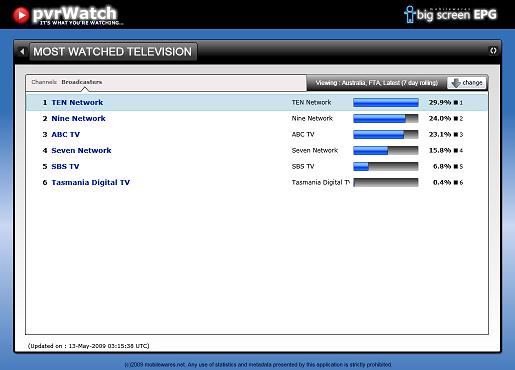 You can also use the inbuilt Search form to view historical results (by Month, Week, etc), nominate a different country and chose between Free To Air and Pay TV results.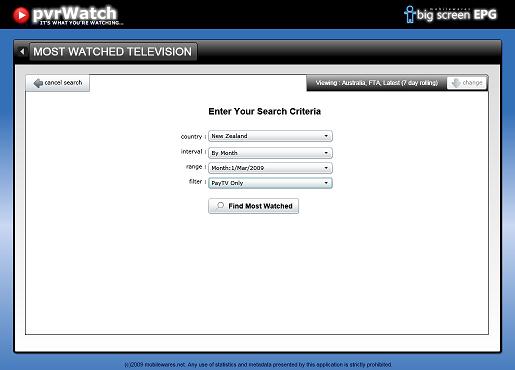 Check It Out for Yourself….
If you want to check it out for yourself – you can either
a) sign up for the Big Screen EPG (and you'll be provided with a direct link into this application from your account menu)
/or/ 
(for a limited time – so readers without Windows 7 or Big Screen EPG can have a look)
b) visit the page http://bigscreenglobal.com/epg/livestats.aspx?   and enter the password 'tunedin'. 
(nb: if you are signed into bigscreenglobal.com already – you won't be asked for the password).
Stay tuned for more….
More Interactive features (and some other interesting charts) will be added over time (so keep visiting to see what's new).  As mentioned above – a Media Center Addin will also be made available (probably alongside the next BSE update) – so you can view pvrWatch from inside Media Center.
The 'private beta' program for Big Screen EPG (which was Invite/Application only) – has now been opened up for public consumption. This means you can now sign yourself up without having to send me an email (and then patiently waiting for me to flick the switches so for you).  Please see below for some step-by-step instructions on how to join.
The version available for download via the beta is v0.3H (released on April 2nd 2009) – and has been given a good workout by several hundred users around the globe.  The v0.3H beta release is hard wired to expire on July 1, 2009 – however new updates will be made available via the program before then (that will extend the trial to a much later date). 
The main reason for the hard coded expiry dates is that like Windows 7 itself – this program is still a 'work in progress' – and critical updates may still be required to address issues with current/future Windows 7 beta versions. I'm also still making a lot of changes to the product itself – such as substantially enhancing the backend (stats submissions and other future goodies) – and also still need to make a nice user friendly installer (and fix other bells and whistles to make it a lot easier for less technical folk to use it). 
One other area which is currently the focus of development for the next version (v0.4?) is the ability to efficiently handle massive XMLTV feeds (such as ones for US/Canadian Users which can contain 150,000+ programs for a 7 day period). Although v0.3H can now handle these feeds – it uses a huge amount of memory (while processing your feed) – which is less than desirable.
Please Note : This product will ONLY work with Windows 7 Media Center (tested on Windows Beta 1 / build 7000  &  Windows RC / build 7100).  Vista and Vista+TVPack is not supported by this product (and it's unlikely they will be supported in future by Big Screen EPG.)  – so apologies to the many people who have asked about these older versions of Media Center.
How to Sign up for the Big Screen EPG Public Beta
Sign up for an account on bigscreenglobal.com if you don't have one (this is completely free).
      visit this link for account creation >> bigscreenglobal.com Account Signup Form
Once you've signed in – visit the 'My Account' page. (click the 'account' link on the top menu on any page of bigscreenglobal.com)
Once you're on the 'my account' section – click the submenu item 'Big Screen EPG'. (see below)

While you're not registered – you will be shown the Welcome/Join page page (see below) – click the link at the bottom to sign up.

On the sign up form (see below) – fill in the details – ensure you agree to the Terms and Conditions (by checking the 'I Agree' checkbox) – and click 'Continue' to signup.

You'll be sent a welcome email / success page on completion – and then you will be able to access the Big Screen EPG download (and some other goodies – see next post).  The download page (see below) will then be shown to you when you click on the 'Big Screen EPG' link in your 'my account'. (once you've registered – you won't need to sign up each time).
          <<< Image is supposed to be here – but Windows Live Skydrive is now broken!! >> (will fix it when Microsoft fix it)…. 
That's it – happy EPG'ing – and look out for new releases of Big Screen EPG coming (very) soon. (if you register – you'll be notified when they come out).